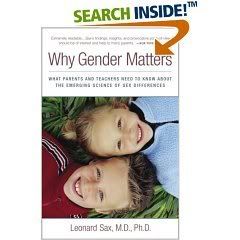 If you are a parent.. a to be parent.. a teacher... you must read this book. You may think that as a mom to a daughter or a dad to a son that you know how to raise your child appropriately, but wow... this book sure opens my eyes. I admit that particularly in regard to my parenting of a boy, but things that I wouldn't have realized or thought of in regard to my parenting of my daughter...
Ideas around education, thought processes... how they differ for girls and boys! I feel this book has really opened my eyes to things I should be aware of as the years go by. To be tolerate of my son's need to be a rough and tumble boy (if he ends up being that way) and to encourage my daughter to continue to take risks.
Okay, my ability to convey my ideas has been horrible lately. I have lost my ability to communicate - hopefully temporarily, but this book is GOOD!
You SHOULD READ IT!
I borrowed it from the library, but plan to add it to my bookshelf to be reread when my kids are closer to school age.