Well, I had my BEST SWIM yet today. I swam almost all the way across the lake and back.. NO breast stroke!!! Only freestyle and just a few breaks! :) I am pretty proud of myself I must say! It's time to step it up and get ready for this race.. no more pussy footing around this swimming thing. I need to get it done! :) I now LOVE my wet suit too... we had a rough start together, but now I think I can finally get it on all the way and we are doing well together! YEAH!
We have our first Swim/Bike brick on Sat... I'll let you know how it goes!
Lily is starting to show interest in dropping her a.m. nap while Jason is powering through and taking a longer one than normal...ah he joys of twins. So now I might have to get creative. :) Today Lily decided she flat out was NOT taking an a.m. nap so she and I went to the zoo while Gma stayed and waited for Jason to get up from his power nap. I realized yesterday - when Lily got up EARLY from her a.m. nap - that she can do things that I didn't know she could do. I felt REALLY guilty. Jason is such a mama's boy and Lily is so comfortable playing by herself that I feel like she gets that shaft... so we went out by ourself today. Wow, (no offense meant to the mom's of one) having ONE kid - after doing two for a year - is SUPER easy... especially when the one kid is Lily. It rained while we were at the zoo and all Lily wanted to do was play in it. She's so curious about things. She still isn't really saying many words - though she babbles a lot - but I discovered that she DOES know what things are. I suspect - as w/ most thing w/ her - she is storing up her vocabulary and getting ready to just start spouting out sentences!
Here are some cute pics of the kiddos. Sorry I'm behind on our photo album.. I'm one busy mama these days... even w/ gma here!
Jason points to Lily's nose: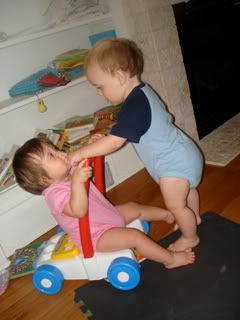 Mommy gets a kiss from Mr. Man. (such a sweety!)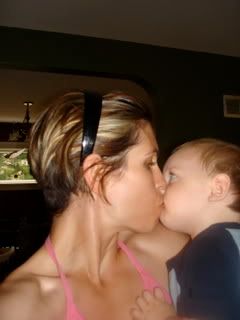 Lily sporting my head band and eating a banana like a big girl (they are no longer interested in slices of banana):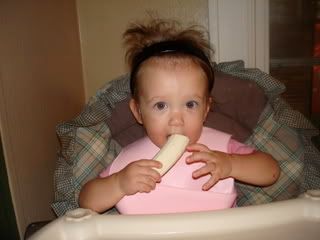 I was fixing their lunch and they wanted the big stem of the broccoli. Actually and effective teether! (no plastic.. ha ha)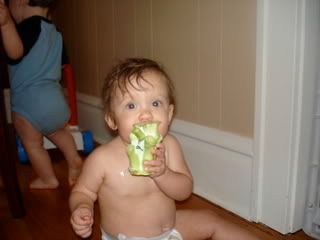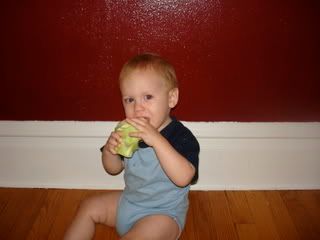 That's all for now.. have to go clean the kitchen AGAIN before they wake up and need to eat AGAIN!