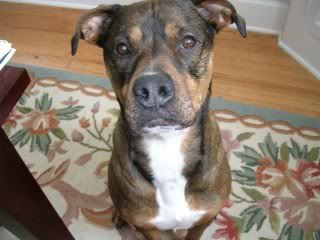 Today was a hard day.. well it was a hard morning.. the day is still plugging along. We drug our feet as long as we could before heading over for Phoebe's appointment. I really thought I was prepared. We didn't give her her steroids last night and she was really showing signs of decline. She was lethargic and not even trying to lick the kids as they were giving her kisses.
I thought I was ready, but when it came time I was a mess. We stayed w/ her and I'm glad we did. It's hard thinking about her as we saw her today - lifeless and not herself, but I felt I needed the closure and that I needed to see it through. I wanted to be there with her. I didn't want her to be by herself when she went. My fondest memories today have been thinking about the time we spent together while I was pregnant. She followed me everywhere and laid around with me while I napped. It was great. The photo above was during that time period. I had been on the computer too much and she was not so patiently waiting for me to get done.
Here are some random photos for you to reminisce over.