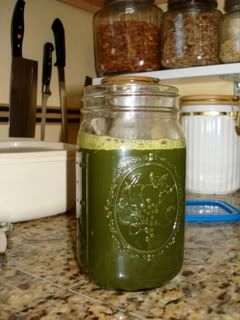 My latest thing - though I'm still a big fan of the green smoothie - is green juice. Send all those vitamins and minerals right into your system w/o all the fiber to bog you down. And if you can't tolerate the taste of the green juice you can use it as the base for your green smoothie... then you don't have to put spinach etc in .. just your fruit and call it good!
My favorite green juice is 4 stalks celery/5 leaves to one head of greens (above are dandelion greens)/one cucumber/4 apples (the more tart the better)
I put some water in the bottom of the blender (preferably the vitamix) and add the celery. Blend those up real well. Add the greens and blend - sometimes you have to use the plunger thing to push the greens down. then add everything else - pre chopped of course.
Then I dump the mush in a nut milk bag and strain it. This makes enough for me to have an entire quart and the kids to each have a pint. They LOVE it. They were asking for it this a.m.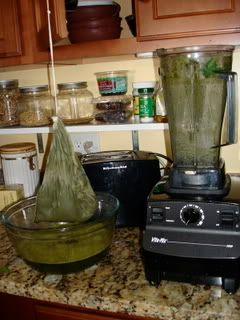 And some photos of the kids picking the last of my tomatoes that didn't get a chance to ripen... which unfortunately was most of them.