We got to Chicago and back w/o incident. The babies are getting so much older! This trip was a far cry from the trip to PA back when they were 3 months old and even the trip to TX at 9.5 months old. We made the trip to Chicago (about 3 hours) without stopping... well on the way back we had to stop for gas, but the babies stayed in the car. We had a little fussing here and there, but nothing like past trips. I had to drive them by myself so THANK GOD they were good! :) The worst part of the trip down was that I had to pee... it was raining... and I couldn't imagine stopping and getting two babies out in the rain so I just plowed forth w/ a VERY Full bladder. Thankfully there was parking right in front of Kelly's - I couldn't have carried babies and gear for blocks w/ my bladder so full.. Anyway!
We had a good time visiting the Bryants... though Jason and Lily had a tough time going down for naps and Jason didn't sleep so well the first night there. I think we may have scared poor 'ol Mikey into thinking babies are a bad idea at this juncture in life. Mike - they are MUCH better at home!! (here's a link to
Kelly's post
about our visit.) BTW Kelly, I'm NOT offended. :) All - in - all they did a decent job I thought. Kelly and I didn't get to go have girl time just w/ us, but we had a great time hanging out anyway.
Mike grilled up some fabulous burgers ( I had to have a bite b/c everyone was raving about them!) I ate a veggie burger.. which wasn't bad. ha ha
Jason and Lily have been crazy sleepers today. Poor Lily has a fever and is VERY clingy today - Jason has been relatively good about sharing HIS mommy w/ her. :) She seems to be coming out of it and I'm not sure what it was all about - she had no other symptoms.
After my trip to Kelly's I am in search of a good bread maker. We had fresh made bread while we were there... w/ a bread maker it is a piece of cake. Not only is it yummy and good for you it's good for the environment... no plastic bags!
Jason and John Michael right after Jason gave JM a love: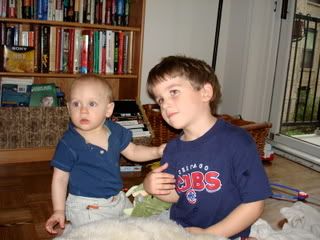 the view from Kelly's: