so Lily climbed up here herself. I just put my arms up in case she fell.... she's one little monkey.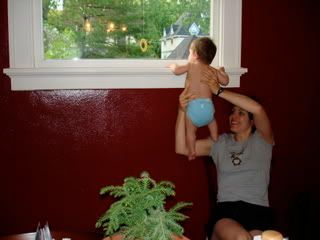 We went on a bike ride to the farmer's market today. Jason and Lily seemed to really like it. It's super busy so they got to see a lot of people. Man if I could learn to love or even just appreciate the winters this place (Madison) would be the best. I went out for an hour long ride the other day and was basically out in the country the whole time. It really reminded me of the Burke Gillman out in Woodinville. I wound through the Arboretum, out into cow town and ended up back in town close to the house. Then today I ran through heavily wooded neighborhoods then back on the bike trail that runs right by our house.
Anyway.. so far spring has been pretty sweet! It's great to be outdoors again.