I was going to wait until we got back from Seattle, but the babies had other ideas.. they've been tracking us when we eat and have started to grab at stuff so we (I - tom's out of town) decided to just try some rice cereal... J loved it, L thought it was okay. Today I decided to do it again.. I don't know.. they just seem ready and I feel bad denying them some food... so we did Oatmeal today b/c I heard rice cereal is constipating, J needs no help in that department....
They LOVED it! Both of them wanted more more more... so tomorrow mom and I are going to go get high chairs (tried to by them on craigslist, but no luck) and some bibs and feeding 'stuff'... the denial is over.. it's time. Lynda, glad you rented that highchair.. turns out we'll need it. You know a thing or two about this kid thing, huh? haha
Here are some pics: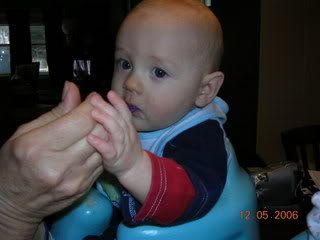 My little babies are growing up SO fast!!!