I can't believe it's been 1/2 a year already!!!!! We have a pediatrician appt today at 1:30pm so I'll come back and update this post w/ their stats after that, but wanted to share their 6 month pic for those of you that are jonesing for it!! ha ha I'm sure you've been checking in frantically today waiting for it! haha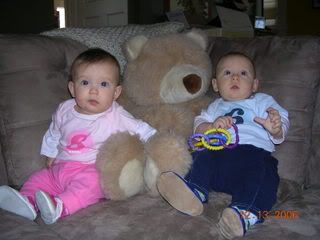 Yes Lily is sitting up all by herself here!!! She sat there and played for a bit.. I'll load more pics onto the photo site later today!
On another note... wow stinky poo is in full affect here!!! YIKES!
Thanks for a whole 1/2 year of wonder and amazement.