So this pic isn't great, but it's the best I can do on my own...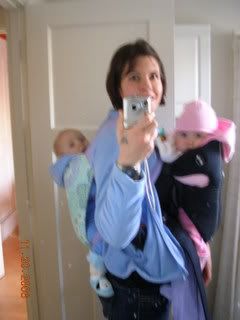 I discovered this great group called
NINO - Nine Months in Nine Months Out
. It's centered around babywearing and I am so lucky to be able to go to a meeting once a month and to meet other like minded women.. get help w/ using different types of baby carriers and borrow from the library (which is where the pretty little purple number J is in came from in the pic above)...
this is the latest carry they have helped me w/... it's so fun to be able to wear them both. I just walked to the bank and got a coffee. I got a lot of "oh so cute"s and a couple of "your a freak" stares, but it was fun... I always thought.. well if I had just ONE baby I could just wear it around.. well now I can. Granted this won't last long as they get bigger, but hey.. hands free baby wearing for right now.
one of the women from NINO is going to sell me two mei tei (sp?) type carriers that she makes. I'm SO excited. :) Her site:
www.madisonbabywearing.com
Karen, I tried the ergo.. I liked it for back carry, but wasn't crazy about it for front carry.. I like the mei tei much better. :)