We're back from our road trip to Pennsylvania to visit my Grandmother!
All things considered it went pretty well... not that we didn't have plenty of these moments: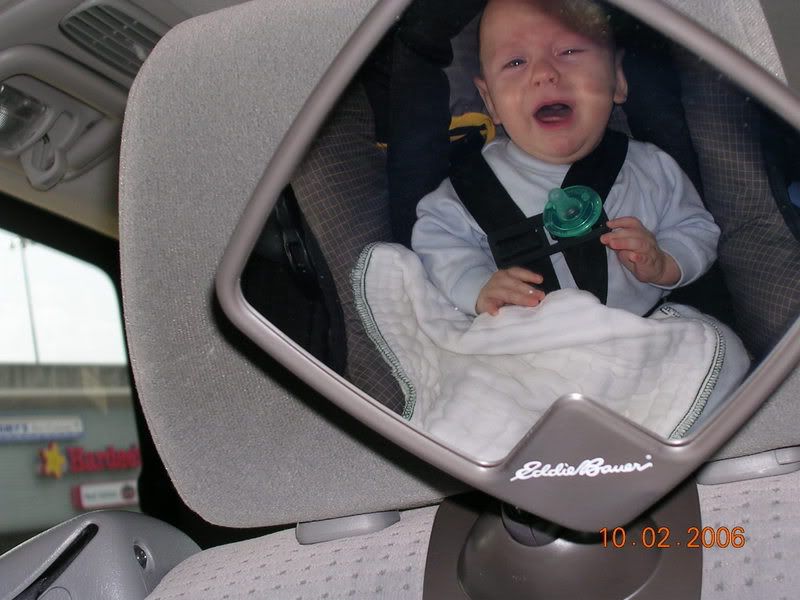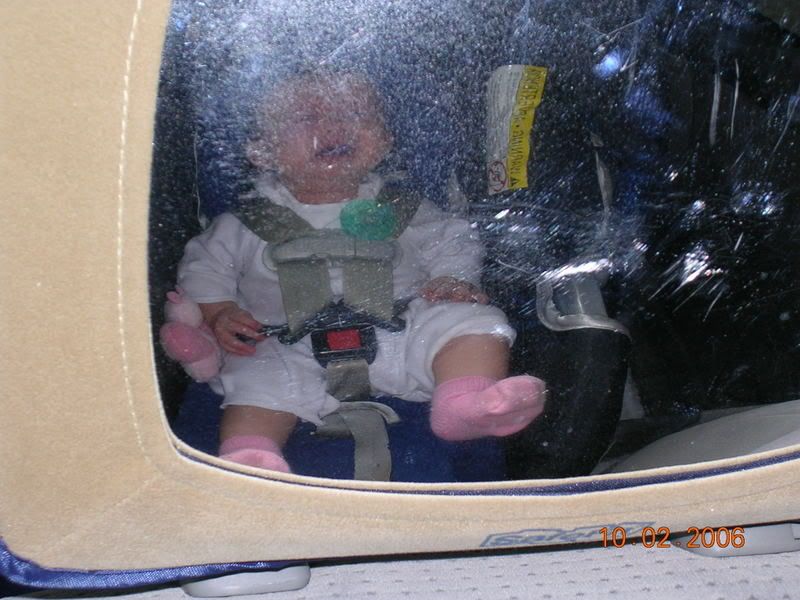 It's hard to see Lily's pic, but she's crying - neh SCREAMING - too! They liked to take turns. As soon as one stopped the other would start. My mom drove the whole way and I spent a good deal of time w/ my arm back w/ my finger or holding a soothie in someone's mouth. The rhythm went something like this.. First crack out of the box they would sit and stare or play w/ their hands, fall asleep for 30 mins (just 30 no more), wake up and play /stare a bit, then cry when they were hungry again. It usually went 2 hours from the beginning of one feeding to the next.. just like at home. We took a day and a half to get there and back. Strangely I really liked stying in a hotel w/ them. Probably b/c my mom would lay down w/ Lily and I would lay down w/ Jason and when they fell asleep that was it.. no trying to move them to the bedroom.
We stayed at my grandma's while we were there. She has two twin beds... that's it. So we borrowed a blow up mattress from my Aunt and intended to have both babies sleep w/ me, but that just didn't pan out so poor mom slept with Lily in a twin bed and I stayed w/ Jason in the blow up mattress. The good news is that Lily slept for almost 8 hours each night so mom and I could just switch places in the a.m. for the morning feeding.
We were so lucky to be able to spend time w/ my Aunt and Uncle, my cousin Denise and my cousin Deanne and her husband Chuck and their two kids Jackson and Carly. I hadn't Deanne and her family for two years... come to think of it I don't think I had seen any of them for two year. SAD! And I had never met Carly. It was a fun trip... though I felt pretty distracted dealing w/ babies.
I'm so glad we made the trip ... even though there were certainly moments of stress during the drive.
Here's a pic of four generations. My mom's mom, mom, me and the two wee ones.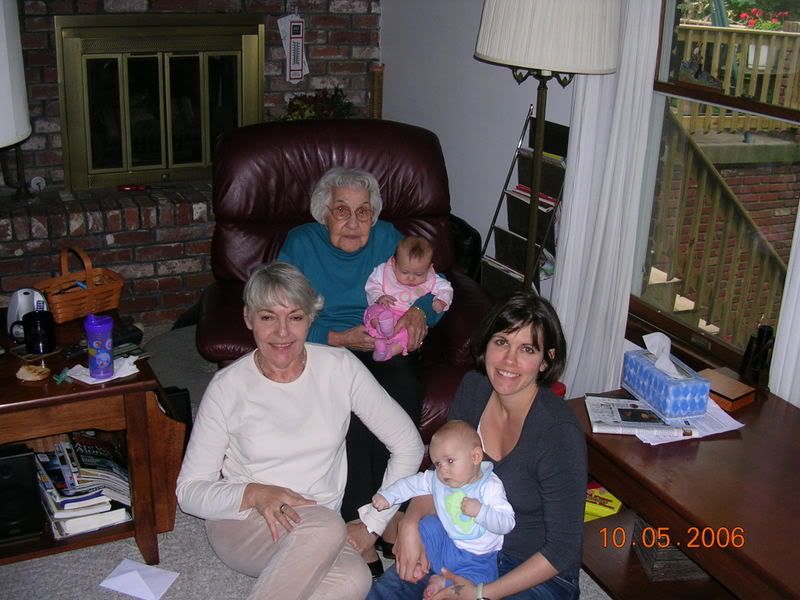 Now we are home until our adventure to Seattle for Christmas. At least I will be able to nurse them when they get hungry... instead of trying to hold them off till the next rest stop.
Julie is coming this weekend... I can't wait to see her.. and her belly! I'll be sure to get some pics! After that my dad will be back.. and the next weekend my friends Kelly, Jen and Kendall (from College) are coming to visit! I'm so lucky to have such great friends!
Tom's headed out of town again on Oct. 30th... and Mom is headed back up to help me. Part of me feels like I should really just bite the bullet and do this on my own.. but WHY!? if I don't have to?? And it can't hurt for mom or the babies for them to spend some time together! :) Dad will be here over the weekends while he is doing some consulting in Kenosha!
Okay... gotta run. Mom and Dad are taking off today ... another day alone w/ the babies for me.