Everything is going well and we seem to have settled into a semblence of a routine.. of course I say that knowing I'm quickly approaching a 3 week growth spurt where all hell will break loose, but I'm enjoying it for now.. we've gotten out for a walk three days in a row now and that helps me to feel a bit more human! :)
Both babies are still packing on the OZ. and eating well. Jason actually latched on w/o the shield all by himself.. I was getting situated w/ Lily and the next thing I knew Jason was helping himself! YEAH! He's only done it once since then, but I'm still very excited that we will get off these things eventually. Today we are going to try at each feeding.. w/ him anyway.. one step at a time. :) Then we'll work on Lily!
Lily and Jason are both a bit more alert with each day... it makes me feel sad some days that I can't hold them both all the time when they are both awake, but we are doing our best to get some good quality time in with both.. but damn a girl's gotta eat ya know!? ha ha And sleep.. and go to the bathroom.. showering occasionally is a good thing too! :)
Here's their 2 week pic..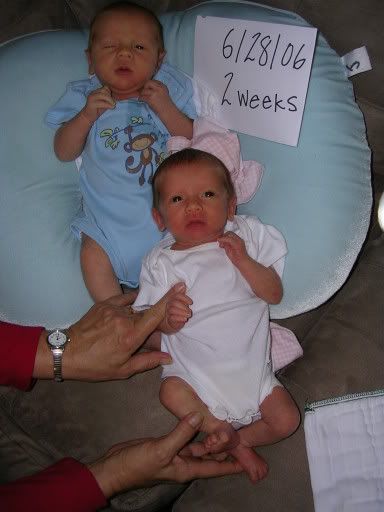 I added a few more pics to the June folder:
HERE
... :)