Okay.. I started to post this yesterday, but was unable to get back to the computer the rest of the day.. let's see how today goes!
I can't believe that today (well yesterday) was my due date and my babies are already 3 weeks old! I can't believe that only 3 short weeks ago I was PREGNANT! Feels like forever ago!
I've been getting out for walks every day the last 4 days or so.. Mom comes w/ me so we can take Phoebe... she needs her exercise too. It feels GREAT to get out and it's the only time the babies get dressed... it's just silly for them to have clothes on here around the house.. 1) they are too big for them and 2) they just barf on them.
Here is a pic of them dressed and ready to go for a walk yesterday! And what a treat ... both of their eyes are open.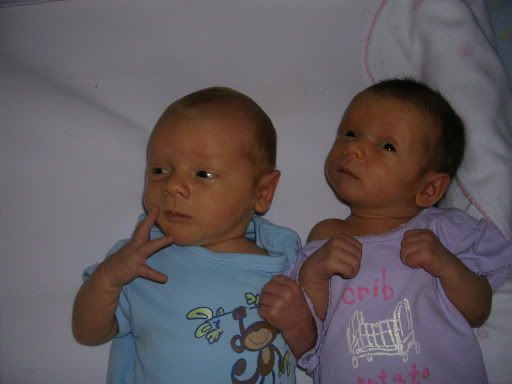 Okay.. they are squaking.. gotta go nurse them... :) I think we are STILL in a growth spurt! ha ha I'll post some more pics to our photo album later today.
Happy LATE 4th of July!