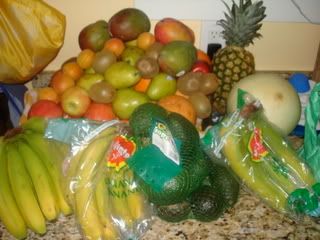 that all of this fruit would go bad!? As I looked at this humongous pile of fruit in my kitchen I thought of the conversation Andy and I had when I was out in Portland. We were talking about nutrition during our training and I was telling him to take a bag of produce to work w/ him every Monday. His response, "it will go bad!"....uh, not if you eat it.
So let's see how long it takes for the Mount clan to go through this enormous pile of fruit! I bet we eat it long before it goes bad.
We had a great day here in the midwest. Super dad watched Jason and Lily while I went for a run out to the Middleton Highschool pool for a work out with the TNT crew. It was just the boost I needed for my mental state regarding my training. I ran far to fast to get out there b/c I was worried I would be late.. I ended up being there 20 minutes early. That's okay ... I had plenty of time to stretch. I got some great tips to better my stroke that hopefully I'll be able to implement. Then I ran home and found Jason, Lily and Super Dad out in the yard playing on a beautiful spring day.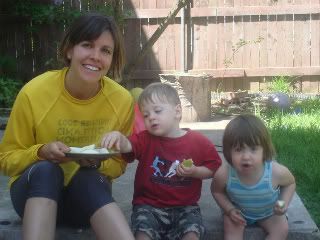 The kids are taking longer naps (did I just jinx it?) so Tom and I were able to spend some time together before he got to go off for a bike ride of his own. Then Gma and Papa Mills came over and we did some shopping and got some dinner out. The kids have changed so much and were much more fun to dine w/ than they have been in the past.
And the big highlight of the day for the kids (and probably super dad too b/c the kids played w/ it while he made breakfast for them)... they got their bday present from gma and gpa a bit early. We picked this kitchen out while we were in TX ... it was on major clearance at the local toy store and I just couldn't pass it up. I've been scoping out kitchens for them for a while and have been looking for a non-plastic variety. I was so amazed to watch them play pretend with it. They have only just started to do any pretend play.
Sorry the pics aren't so great. Best I can do right now. :) I'm sure it will be featured in many photos to come.