I'm tired and lacking in words so I will write a bit, but post lots of photos. :)
It's finally starting to warm up here... though it was a balmy 50 degrees this a.m. when I left for my ride)... so we have been having some fun outside.
We hit the zoo on Friday....
Jason's favorite highlight was the water fountain and the park: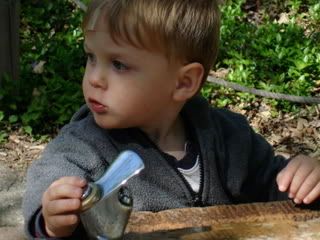 He charged right up this huge rope ladder: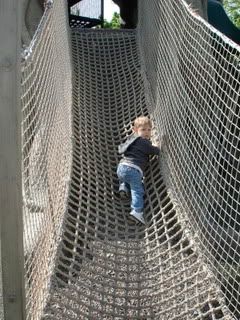 Lily wasn't so sure: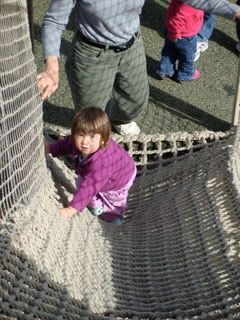 We were quickly told that the park was actually closed so we had to leave. Jason wasn't too excited about that idea: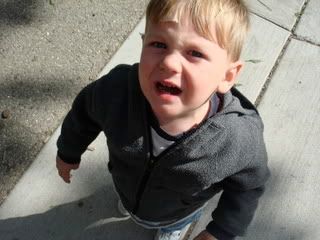 Next Lily wanted to climb on the big turtle: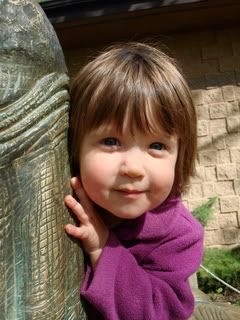 And Jason, of course, had to have his turn: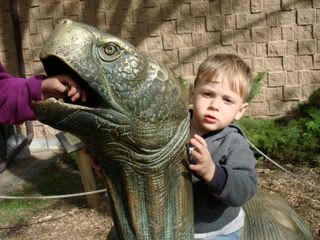 We tried to take the touristy pictures, but Jason is still in his "no pictures" phase: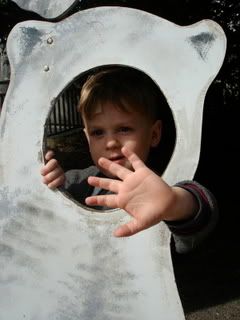 After going to pick up my packet for tomorrow's race and hitting Joanne's fabrics for some craft stuff we decided to hang at the house in the yard all afternoon b/c the kids have been drug all over the place lately.. on my schedule. :( oops. When we were at Joannes' Gma bought the kids some bubbles and they were so excited that they decided to skip the nap thing today. They chatted through their entire nap time ... mostly about bubbles.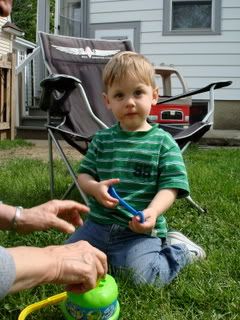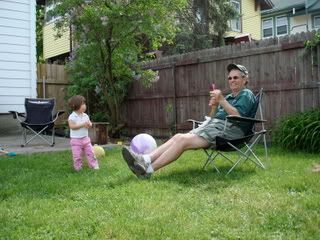 After that whole thing ran it's course - READ: Jason and Lily used up all the soap ... mostly dripping it all over Mommy and Gma - we moved onto the kid's craft project. I frequently read - and am in awe of - Denise's blog
Mom in Madison
. She recently posted an adorable artsy project that she did with her boys and I just loved it. She is always exposing her kids to such wonderful things. I aspire to do half of what she does. :) We tried our hand (no pun intended) at her hand print canvases today. My kids obviously can't color in lines so I did the oil pastel part myself and had them paint the canvases w/ watercolors. I was able to stay relatively relaxed about the whole thing... even when they moved on to painting 'other' things - to include Papa.
My little Picasso's: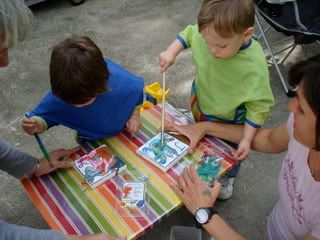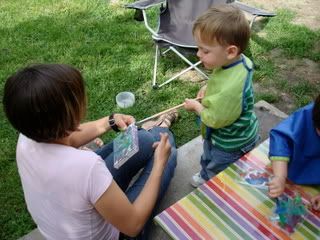 The closest shot of J's finished-ish: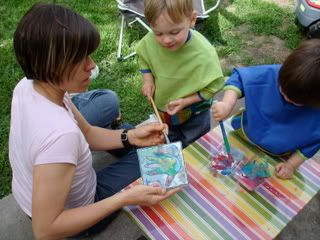 L's finished-ish: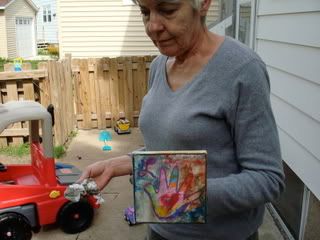 I'll post photos of them finished (I need to seal them) and hung proudly w/ Uncle Everett's (my Great Uncle) paintings.
And here are some photos of them painting some other things... they really loved it.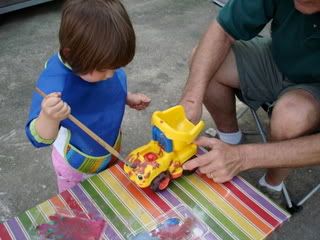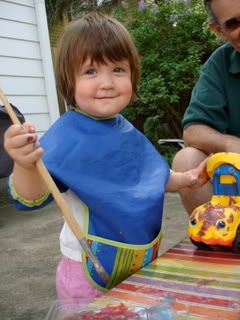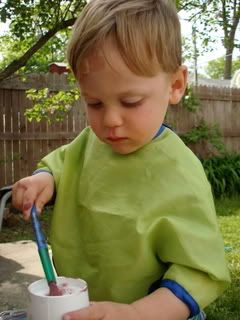 I'll be running a half marathon tomorrow ... then dropping dead! ha j/k. Maybe I'll actually nap when the kids nap though. We'll probably hang in the yard again. If it's nice maybe instead of "hanging" I'll just LAY in the yard w/ the dog! (Mom and dad's dog... we did not get another dog.)
PS... those wondering about my fruit. I had to buy more bananas and pears on Thursday (went to Sam's on Saturday) and we will need to hit it again tomorrow.. ONE week. That's how long ... NOT EVEN how long that fruit lasted... w/ three of us. One adult and 2 kids. :) Like any of you care! ha