The three hour ride is over... the race is over... tomorrow I sleep! :)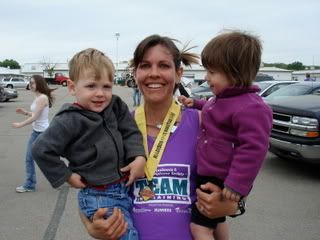 I was hoping for a 1:50 finish, but wasn't sure I could maintain that pace for 13.1 miles so I was just kinda going out and doing what I could w/o totally blowing up at the end of the race. My
chip time
was 1:45:51... that's an 8:05 min/mile. That's just crazy. I felt it for sure. I'm tired now, but feeling pretty good. We'll see how I feel tomorrow. :)
I think Mom is a bit burned out after this weekend.. it was a long one! :)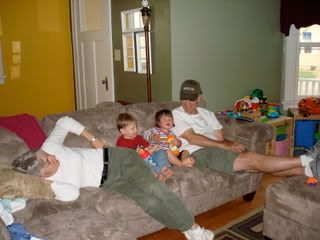 After the kids DIDN'T take a nap again today we went to the park.. they walked all the way there, climbed and ran and played some 'soccer' while running all over the place! Lily was red faced and requesting cold water when we got home.
Here they are holding hands and giving kisses!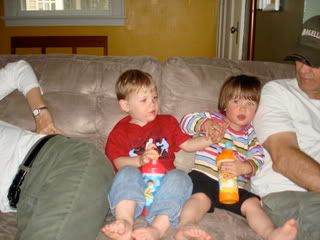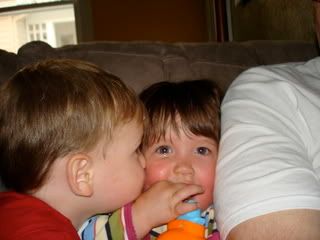 I realized today that one of the big differences between doing races before having kids and doing them after having kids is that the race isn't the only event in your day! You don't get to go home have a big meal and go back to bed! You don't get to laze around the rest of the day watching TV. You have to chase kids, cook them food, buy more food, do laundry, change diapers, entertain, bathe, brush teeth and put them to bed. ;) You aren't glad the race is over early so you have the rest of the day to recoup you are glad the race is over early b/c it doens't eat into your family time! :) Ah, how things change.