As you know I spend a great deal of mental energy thinking about what my life will be like in the years to come.. like FIVE years from now. I think of what I want it to be like and where I want to be. Since having kids that's a bit harder for me to do seeing as have no clue what they will be up to and how that will impact my life. :)
Anyway.. as I drove home from the gym this morning it occurred to me that THIS is the life I want.. this life that I'm living right now. I've got it pretty damn good. I get to go to the gym every day to work towards goals and dreams of my own. I don't have to worry about getting back to work (my work travels w/ me. :) ) and I don't have to worry about the money to pay for my frivolous need to push my limits. I am SO lucky to not have those worries.
I have to great kids that bring me so much joy! Lily and I took a trip down to Chicago (well Highland Park) this weekend to visit with Kelly and John Michael. It occurred to me about 20 minutes into the drive that I had forgotten to pack any toys. EEK! I thought I was in for a HELLISH 2.5 hours down to Kelly's, but Lily was a dream. She was content to play w/ gloves, hats and her coat. We sang some songs and talked a bit. She did get restless here and there, but who can blame her. At Kelly's she was also amazingly good. She ran around the house with John Michael or by herself. For the first part of our visit she watched him as he played then joined in. She fell in love w/ his magna doodle and drug the little one all around the house with her. She even sat quietly coloring on it the entire time I made dinner the second night we were there. I was amazed. She slept really well the first night and napped well. The second night she did well aside from a 2 hour party in the middle of the night. She talked up a storm too! I just couldn't believe how self contained she was while she explored and played. We even took the kids to the book store and she just ran around there looking at the stuffed animals and pulling down the occasional toy. I have to say I was also amazed at how well John Michael did. He shared his toys really well and though he is a super active 4 year old he was great with Lily. He would do his spazzing out and running around all without knocking her down.. that's more than I can say for Jason. :) It was so fun to watch them play together. They followed each other all around the house.
Here are some photos from the trip. All from one day when she was playing magna doodle. Oh, I tried to put this super cute outfit on her that we got from Karen, but she WOULD NOT wear the dress part so here she is before I got some pants on her.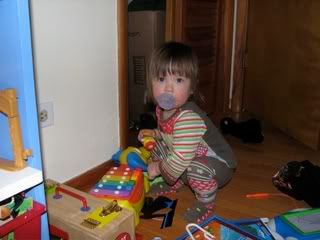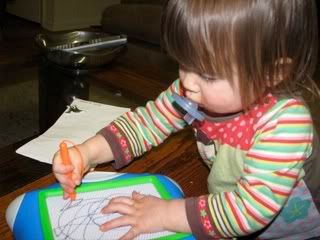 While I was gone Jason was home with Tom setting his own records... like sitting in the tent for an hour stacking blocks and coloring quietly all morning! REALLY?? MY Son? While I was gone he seems to have grown by leaps and bounds. This morning he requested a cup, I handed him his cup of milk and he pushed it away and said, "No, Wawa cup." WHAT? uh, okay. Thank goodness for developing vocabulary. In days past he would have just screamed and continued to ask for a cup while I continued to try to hand him his milk. I was so surprised.. and excited! ;) Then this afternoon he got upset b/c Phoebe was eating the O's he dropped so I told her no and to go to bed. He then said, "Phoebe bed." and pointed to her bed. He then kept bossing her around. They learn so much so quickly. I also got proper kisses today. I didn't even ask for them. I changed his diaper and stood him up and he leaned over, puckered his mouth and kissed me right on the mouth.. a couple of times. So adorable!
After Lily fell in love w/ John Michael's magna doodle I ran over to Toys R Us and picked one up for Lily for our return trip. I thought for a moment of buying two to hopefully avoid fights at home and then decided that was excessive.... uh, we ran to Target yesterday partly to get Jason his own magna doodle. They both love them and haven't actually fought TOO MUCH about who has which one.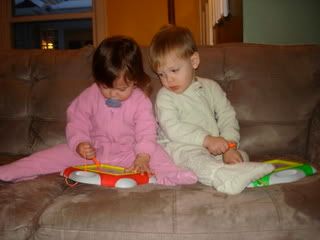 So back to my original topic. Life is great.. I am happy.. and that is good. :)