Okay, so not to toot my own horn, but I'm pretty proud of myself. My friend Kristi emailed me about this great kids thing they do locally. This time it was music today at 9:30am and it's free. My initial reaction was, "Crap Tom leaves at 5am that morning we can't go"... then I decided that I couldn't let that be an excuse to sit in the house all day and be miserable so I decided to give it a shot.. worst case I just get out of there early. Well, it was definitely fun and a little challenging, but I was able to keep my cool. I spent a lot more time as part of the main attraction than I would have liked. I spent a lot of time on the stairs of the stage keeping Jason and Lily from running up there.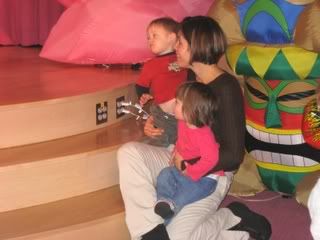 We sat with our friends Rebecca (my friend), Avery and Colette... at least when we were sitting which wasn't very much.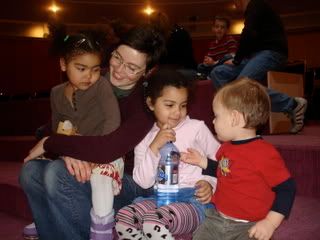 Lily was kind of doing her own thing.
I'm pretty proud of myself for just going and trying it and for enjoying it. :)
We even went for a run after naps... I was wonder mom today. Speaking of I should go play w/ the kids before dinner and bed time. :)
Look how big they are in this thing now!