In case you were wondering... yes it is snowing again. Tom left for Taiwan at 5am on Saturday a.m. He reports that when he left it WAS NOT not snowing, but when I woke up at 7am the car was covered and it had snowed about 2 inches. It is snowing again today.. we should get around 4 inches. Temps are set to drop back down to double digits this week too. Thankfully this is only a week long trip so it won't be able to snow every other day for two weeks straight. I think today is supposed to be the last day for a while, but honestly I try not to look b/c it bums me out. ha
We lost the tent from gpa larry and gpa lynda. It is finally broken beyond repair I think. (We'll let Tom take a look at it when he gets home. I'm sure we could find another plastic dowel to replace the broken one. I set up the other house which I think will have an even shorter life span w/ TW around. TW stands for trainwreck ala Papa Mills. ha :) It's been up for a couple of hours so far!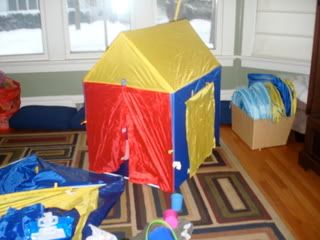 (note the remains of the beloved tent in the foreground)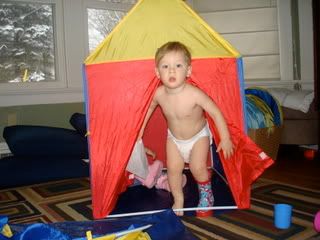 Also note worthy from today... Lily put her big snow boots on all by herself today. The wrong feet and all.