As it always seems to do it's been snowing since Tom left. Okay that's an exaggeration. It snowed Sat night and Tom and dad shoveled us out of some nasty heavy wet snow on Sunday and Tom left on Monday. It added another 5 inches or so last night for a total of 12.5 inches over the last couple of days... it's slated to snow another 3.5 inches tomorrow then snow again on Sat and Sun.. AWESOME! Here's a pic out the back door this a.m.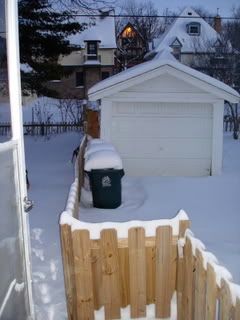 Monday morning the kids were making me crazy so I decided to go ahead and go to the gym - afterall Tom got out that morning and it's not like I've never driven in snow before. Well, the snow that came down on Sat was then covered by rain and froze over two nights so the snow at the end of our driveway wasn't like the stuff I normally just plow over it was more like a big ass glacier. The kids were piled in the back and plowed 'over' the glacier as I normally do and guess what... I got stuck on the glacier. How embarrassing. I was halfway in the road and halfway in the driveway. I was scared to leave the kids and go get a shovel, but I had no choice. I got both the snow shovel and the 'dig a hole' (whatever it's called) shovel and was shoveling away w/ no gloves. I called mom and dad to come over and bail me out. One neighbor came by as he was on his way out and said, "do you need some help?" I didn't want to outright ask.. ya know, play the damsel in distress so I said,"Well, I'm stuck, my kids are in the car and my husband is out of town, but I called my parents and they are on the way over." Neighbor: "how long will that be?" Me, "15 or 20 mins." Neighbor, "Well, I have some errands to run, but if you are still stuck when I get back I'll help you." Yeah and if my kids are Popsicles will you take them to the ER for me. Thanks! ha My two other neighbors from across the street came over wielding their shovels and did not ask if I needed help they just jumped in and helped. THANK YOU!!!! I felt like such and idiot. Poor Jason and Lily were okay, but cold and a bit shook up. The liked it when the neighbor drove the car and rocked back and forth. :)
Lily had her first hair cut today. I tried to trim it up myself again, but she tired of it before I could finish and I decided it was time to just take her in. She did so well. She was eating a muffin top while she got it cut so I think that helped. Here are some photos.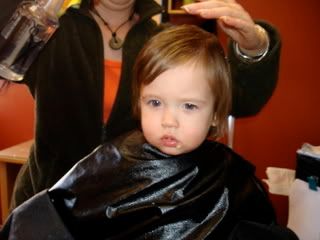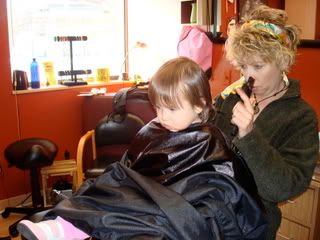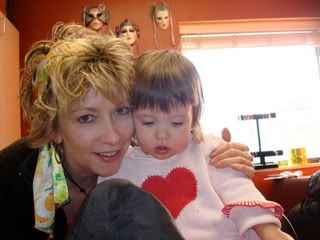 On the way home the girls stopped at the grocery store and I picked up some of those little bananas.. a pretty big bunch of them - maybe 12 bananas.. we got them home and broke them out and the kids ate them all RIGHT AWAY while screaming at Papa to HURRY UP AND GIVE ME ANOTHER ONE!!!!!!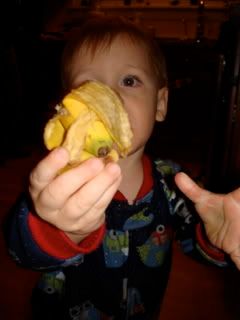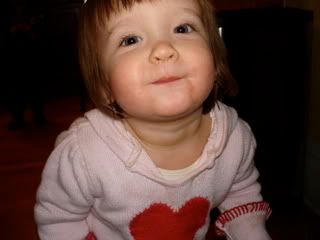 I was so proud of myself for the 1,2,3 time out discipline I was using. It seems to be working fairly well on Mr. Man, but twice now Lily has seemed unphased. The first time she went willingly into the corner - I put her there. Then she stayed when I moved the chair (I put them in the corner then sit on a chair in front of them so they can't move) she stayed and pulled the chair back. Today I did 1,2,3 and then said, "okay, you get a time out." and she ran over to the corner and pulled the chair in front of herself and just sat there. Hmm.. maybe I'll have to take away her Pappi (pacifier) as her time out... ????