The birth of our son and daughter:
Jason Everett Mount
6/14/06 10:43am
6lbs 4oz 19.5inches
Lillian Payton Mount
6/14/06 10:44am
4lbs 9oz 17.5 inches
Things change so quickly!!! I sit here now, not w/ a big belly, but w/ my son strapped to me and sleeping soundly after enjoying his breakfast.. AND sleeping for SIX hours last night.. in two 3 hour spurts! (THANK YOU Jason) My FABULOUS MOST REMARKABLE husband Tom is in the kitchen preparing the nursing mother some more food while wearing his beautiful daughter proudly... who is also sleeping after her breakfast and six hours of sleep (also in 3 hour spurts).
I can't believe that less than a week ago I was carrying these little peanuts in my tummy.. I can't believe they fit in there! A true miracle has occured.
On Wednesday morning we headed to the hospital. I was nervous and excited. I was worried about surgery and concerned that my babies would be okay. We both were trusting in our doctors and that God would bring us all through safe and sound.. WOW.. did he ever deliver!
We checked in at 7:45am and got up to our room by around 8am. We spent the next two hours talking to the docs and working on a name for baby boy. Tom put a list up on the extra white board.. I think he was just trying to distract me as I sat in my lovely gown/robe ensemble waiting to get this party started.
The worst part of the whole thing was getting the IV. I've only had one other IV and it was in another part of my arm. I got really woozy and thought I might puke, but we got through it. We all walked down to the OR together and I had to go in by myself for the spinal tap.. which I was terrified of.. Tom went to change while I went in by myself. It was a bit surreal being in an operating room and hearing/watching all the commotion going on as they got ready. I tried to just focus on the nurse in front of my and keep my nerves steady. To my amazement the Spinal was easier for me than the IV! They laid me back and as the doc had said could happen my blood pressure dropped and I got really nauseous.. nothing like puking to the side into a bed pan while laying on your back. Tom still wasn't there and all I wanted was to see his face at this point. They gave me some meds and I was feeling a bit better.. Tom came in and sat by my head and they got started right away! I had another wave of nausea right as they were starting (this time my WONDERFUL husband got to hold the bed pan)... then as they pulled baby boy from my womb I IMMEDIATELY quick feeling nauseous and felt like my face must have gotten some color back at that moment.. to say it was a relief is an understatement. I heard him cry shortly after that as they took him over to check him out. Then baby girl was removed to my delight I felt "normal" - I felt like if they left me on that table hanging open that would be okay! She cried as they checked her out and shortly after that they placed baby boy on my chest and baby girl came walking over with her very proud daddy... the report was read... he was 6lbs 4 oz... I COULD NOT believe it!! What a relief... then they both checked out well and could stay w/ us!!! I was beside myself w/ joy. Both babies stayed right there with us as they finished up the surgery... like I noticed that they were doing anything.
There was a lot of pressure throughout the procedure, but certainly no pain.
Afterward we went to the post-op room where they set me up with some IV pain medication and checked my vitals and waited for me to feel my legs again.. all very weird! We had our babies with us the entire time. What angles they are!
Back up in our room we were able to cuddle and feed our babies and I can't even describe the immediate love you have for them. As much as I love my nephews and niece.. I couldn't have understood how it felt to hold your very own baby in your arms if my sister's in law had tried to describe it to me. It's so overwhelming.
I was off the IV meds and had my catheter out by that night and had been out of bed. I was feeling pretty good and surprised to find that most of the pain I felt was from my uterus contracting... not where I had been cut.
Baby boy had been pulled out by his legs and had inhaled some blood and fluid so he was a bit sluggish to eat, but his sister went to town. Since then they have both been eating really well - especially for their size (particularly Lily). They both lost about 2 oz., but both started gaining BEFORE we left the hospital. They are both wetting and dirtying diapers and passed every test they through at them with flying colors! We couldn't be more proud! :)
We've actually managed to get a bit of a system going to do the feedings and what not and have both managed to get a considerable amount of sleep considering!
I am working on uploading some photos, but it could take a while for me to get them all up... in the mean time here are some for your viewing pleasure...
First a before and after:
36 weeks 6 days - day of delivery
2 days old: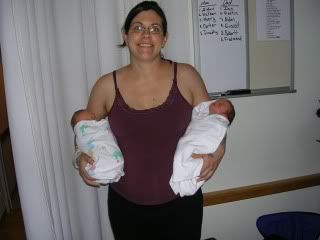 And me 2 days post op... what??? Looks about 20 weeks maybe more than that??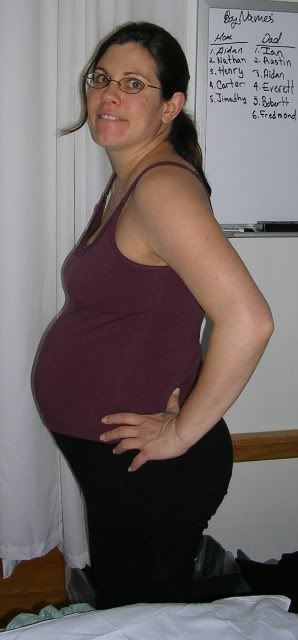 And the MOST precious babies to ever enter this world: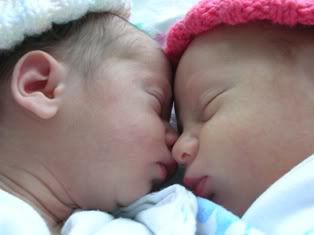 Until next time...