Things are going pretty well lately. I'm in the "FEED ME NOW" phase. I have to stay on top of it or it gets ugly. I learned this the hard way the other day. I was doing something... getting hungry and didn't want to stop AGAIN to eat so I kept working. Well, not too shortly later I was nauseous and shakey. I went into the kitchen and threw together a taco salad as quickly as I could then had to force myself to eat it with out puking because I KNEW I needed to eat. I ended up having to lay down for a while to get through it. Next time.. eat when you are hungry or your body will get back at you! :)
I'm having cravings here and there and Tom is being a champ about entertaining them. Last night I REALLY wanted egg rolls and hot and sour soup. Even though Tom leaves on Monday to go to Asia AGAIN.. he still let me pick up crappy american chinese food when he's got over a week of it to look forward to.. well he gets the good actual chinese food, but whatever. Don't worry to those that might be concerned (aka Mom) I'm still eating really well - with the occasional indulgence! :) Frankly I seem to be eating better by default because sweets aren't as appealing. I thin of them then it just makes me feel sick. I do have the occasional sweet - usually ice cream - and hey at least that has calcium! ha ha It's hard to stay creative and get the variety I need when it seems that I am ALWAYS having to figure out what I'm going to eat! ha I'm eating more meat than I think I've ever eaten in my life.. protein is a must.. and it's what I like right now... along with fruit - I guess that's sweet huh? :)
And here is what the normal evening looks like: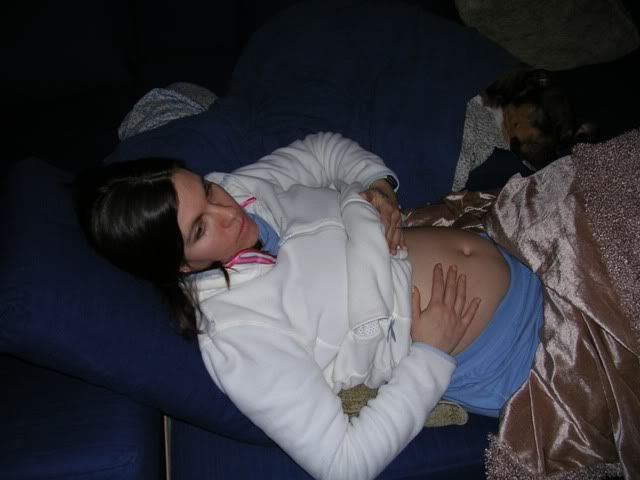 I relax a lot, but I am trying to get out for a walk with Phoebe at least every other day - doing okay with that - and my prenatal yoga class started last Tuesday. It's only once a week, but I think it's going to go a long way to help me with strength and flexibility and most important LABOR!!
Only 6 more days until my next ultrasound where they are going to try to see the genders... I can't wait. I feel like it will make this feel that much more real! Then I can start really thinking nursery, shower(s) and baby names!