Here are my race photos. :) Yes me in half neoprene.. and running. :) ha ha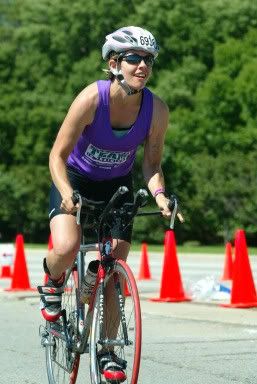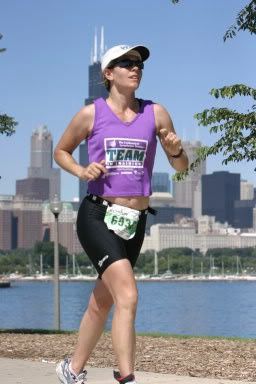 They actually got a pretty nice shot here w/ the city in the background. I need to work on not swinging my shoulders so much!
I signed up to do another sprint on Sept 15th. Closing up the season I guess. I don't really know what to do with myself now. Don't know what to eat, when and how hard to train. I just joined a gym because grandma and grandpa are leaving TOMORROW! EEK! I'll be taking a spinning class and doing some swimming to start. I'm interested to do my 5 "free" training sessions w/ a trainer... which includes a VO2 max test. :)
So yep. Summer has officially ended in the Mount household. Life is about to come to a screeching hault here! Or is it going to spin out of control? Hard to say! I won't be heading out for any 3 hour rides or having a nice quiet by myself hair cut any time soon. :) Thankfully Lynda will be here in early November and mom and dad will be back for Thanksgiving!
The kids have successfully dropped their morning nap. They are now taking ONE - yes ONE - nap a day. I think I've adjusted relatively well too! ha ha We'll see how my adjustment goes to having Grandma leave. They are napping around 1.5 to 2 hours in the afternoon and sleeping well at night. We had a Busy busy day today. We have been getting out of the house in the a.m w/ the hopes of wearing the kids out for a nap in the afternoon - HMMM park, not by myself... zoo, not by myself... mall, not by myself... front yard, not by myself... not sure WHAT we'll do tomorrow... I guess we'll be hitting the gym everyday so the kids can get a work out... I'll be in the Eucalyptus steam room, Hot tube or Sauna w/ a beverage if you need to find me. ha Anyway... just putting it all out of my head for now (meaning the next 15 hours or so). Back to my original train of thought.. we had a busy day today cramming stuff in before Gma and Gpa head back to Texas. I got up early and went for a bike ride w/ my team mate Joe (were going to do a 56 mile ride, but bailed and did only about 25 miles... HEY, we aren't training for anything anymore!), then Jason, Lily, Grandma and I went to get a coffee to go, picked up our CSA box then hit the park. Papa came to meet us, then we went home for lunch and naps. After naps we hit the pool at Gma and Gpas then dinner out for one last hoorah. The babies got to bed a bit late, but hopefully that means Jason and Lily will sleep well tonight.
They are growing up so fast. They did great at the restaurant. Both of them are so social saying hi to everyone - not all patrons of the restaurant appreciated their 'socialness'! :) WHATEVER! They weren't rude, just asked to be moved. ha ha I think I need a tarp and portable shop vac (the wet dry kind) for our dinner outings in the future, and it needs to be rather quiet. Anyone know of such a thing?