Yesterday we went to Papa and Grandma's to go to the pool then out to dinner and for a stroll at the mall.
This was the second time we took the kids to the pool. Lily really LOVES the water. She wants out of her little floaty so she can 'swim' and be thrown up in the air. When you put her back in the floaty she tries to crawl out. Jason on the other hand would rather walk around the deck checking things out, but will tolerate the floaty thing. :)
Here are some photos.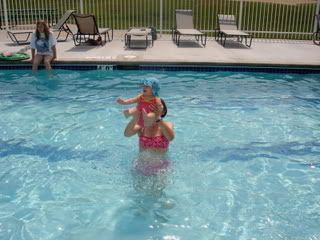 http://www.blogger.com/img/gl.link.gif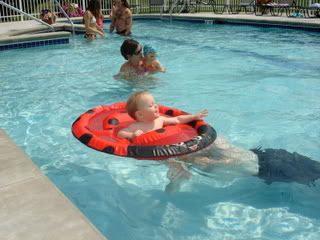 After our dinner out we took a little stroll through the mall and during our stroll we discovered the Lily does really have a shoe problem. She reached for all the shoes we passed. As we walked by
Build-A-Bear
she got very excited and reached out of the stroller in the direction of the store so we walked in. I'm not sure if it was the VEGAS style lighting of the eye level merchandise that caught her attention, but she definitely wanted to go in. She LOVED all the animals and Papa being the softy that he is bought her a puppy and Jason a teddy. Jason held tight to Ted the whole way out of the mall and the entire way home (he's never done that before) and they both took their new animals to bed w/ them. When I went in to get them I thought surely the animals would have been tossed out in the night, but Lily was holding Puppy up when I went in. As we walked out she had to take Puppy w/ her and proceeded to give him many loves throughout the morning.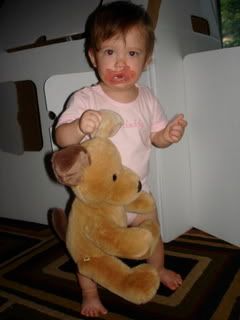 I think Lily really like animals. The TV was on and Martha had an animal specialist or something on her show and Lily was up close and trying to touch all the animals and was VERY animated about it. So cute!