So this is what the house looks like (generally) when we go to bed at night/wake up in the morning: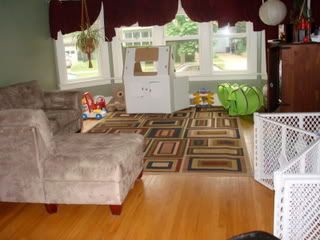 And here it is after Jason and Lily have had their way w/ it.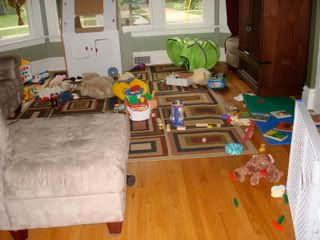 (it looked a lot worse in person)
I had taken a photo of the kitchen before/after as well, but seem to have lost it... it may be worse than the living room. Ha ha So for those of you that haven't hit the toddlerhood/feed you every five minutes/tornado stage... watch out! And for those that are there.. .EEEK!! ha
That said the days struggles are so worth it for scenarios like this. Jason got some blocks down that have the long cylinder type pieces. We played a bit.. me building, him knocking down. While we were doing this Lily was working on carrying the cylindrical pieces around w/ her. First two then she graduated to three. Picking them up and walking with them. She is so determined and focused when she does this. Shortly after Jason discovered a cup sitting on the floor (see pic above) and found that he could put the cylindrical pieces in and swirl them around. He was quite proud of himself. Lily saw his pride and had to come over and check it out. They both thought they were pretty hot stuff for figuring this out - and this was great for Lily because now she could easily carry her three blocks. ha It's so amazing to watch them really focus on something and figure it out. When they get frustrated they grunt and cry to get me to help them.
Here are some cute photos of them discovering the blocks and cup. I can usually get more pictures of Lily because she is so focused. As soon as Jason sees the camera it's game on to get his hands on it. I try to let him look at it and take my picture to see my face on the camera - sometimes that works, but today he just wanted to eat it.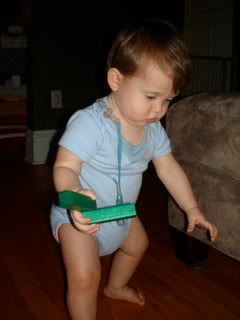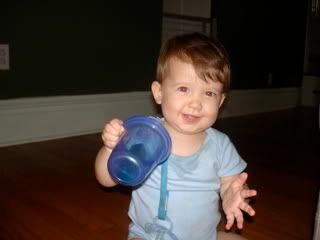 (is she not the cutest little cutie you ever did see?)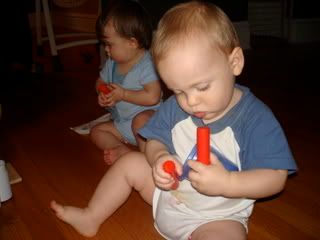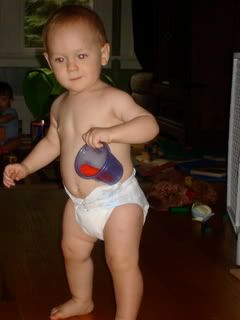 Lily's fascination with animals is escalating. We came back from a walk the other day and there was a rabbit in the yard. I stopped the stroller for them to see it and she got very excited. When he hopped into the bushes she cried ... the whole way into the house. They both love to look out the window (unfortunately this requires the assistance of two adults) and look at the birds, squirrels and rabbits. Lily squeals w/ joy every time she sees and animal and points at it. Today there was a robin hanging out on our back fence when we got home and it just sat there for minutes all the while Lily pointing and squealing at it. Future zoologist? Animal rights activist? Vet? or simply a dog owner... who knows.
Both kids are working on teeth right now. Jason on his second bottom tooth and Lily on her first top tooth... they are getting so big! They seem to be changing daily. I think Lily will be all out walking by the end of the month.. she takes more and more steps every day.
Here's Jason playing w/ my headband... ???