So we get our
CSA (Community Supported Agriculture)
box every Saturday now and along w/ it comes a newsletter (which comes by email.. so we are saving on paper) that contains recipes. The other day I made a fritata w/ the spinach and
garlic scapes
(yes I am cultured now.. I had no idea what a scape was prior to this experience) and today I made tabouleh w/ the fresh parsley and chives. I had to use millet though so it didn't come out quite right texturally, but it's still yummy!
Well I make most of this stuff for the babies... though I usually eat it too.. so here are some pics of their lunch today. You totally wish you were them right now huh? Someone to cook your meals, take you everywhere, bathe you, do your laundry, and love you all the while. :)
Tabouleh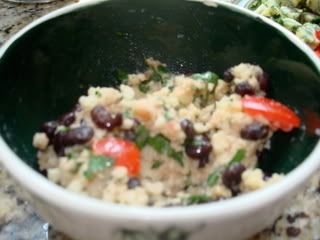 Fritatta (all chopped for them) The strawberries are from the CSA and DAMN they are GOOD!