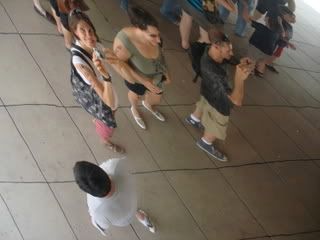 I'm back and it was GREAT! My swim could still use a lot of improvement and Accenture is truly like swimming in a washing machine. This year I started in a mixed wave w/ men and women and I just got clobbered. Kicked, hit, climbed over... it wasn't awful, but it did piss me off here and there. I got kicked in the goggles twice and a big clydesdale guy almost drowned me by swimming right over top of me. I was LESS THAN amused. I still managed to get out of the water 7 mins ahead of last years time so I guess I'm happy about that. If I had swam freestyle straight through like I managed to do at Lk Stevens I'm sure it would have been faster. I would like it to be at least 5 mins faster, but that will take time and dedication on my part. Maybe next year. Clearly I improved and that's what matters. I loved the bike again this year... I wasn't sure if I was going to go out and try to kill this race, but I always say that once I get out there I always have to give it my all. :) I ended the bike a minute slower this year, but that's fine. I felt really good - so I'm happy. I did a hamstring issue that persisted on the run, but as long as I kept going it seemed okay. It was walking through the water stops that was tough. It wasn't as hot this year, but there was a bit of wind. Thankfully you got one part w/ the wind to your back and one w/ it to your face so it was even. :) My run was faster by 3 minutes (though it never feels fast after the bike) and I had the same problem I had last year.. I had to pee so bad I thought I was going to vomit. Last year it was early in the run and I stopped at a port-a-potty. This year it came later and by the time I resigned myself to stopping it was too late.. no more port-a-potties. If I could have relaxed enough to pee on myself I totally would have, but I couldn't do it.
MOUNT, LAURA Bib #4944 F F30-34 MADISON , WI 53726
Swim Trans1 Bike MPH Trans2 Run Pace Final
37:12 02:29 01:13:10 20.3 01:58 51:11 08:15 02:46:02
While I don't plan to do Accenture again b/c of the sheer spectacle of it I do plan to do more tris... duh! Accenture is huge and crowded and just a bit much in my opinion.
My friend Marie rocked the race too! She loved it and I'm SO glad she joined me in the journey. We had a lot of fun in Chicago ... it was nice to have a mini-girls weekend. We missed the fam damilies though.
Here's a cute shot of Lily ... she fell and hurt her lip the other day and wanted to put her own band aid on. Works for me. ha