Grandma Lynda got here last night and the kids got to see her this a.m. .. the last time they saw here was last Christmas so we weren't sure how the kiddos would react.. well here's a pic to show you how it went: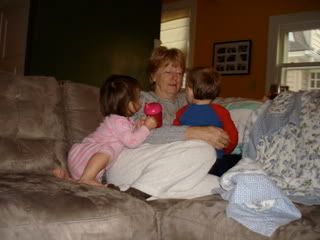 They took to her right away. As soon as we got downstairs Jason gave Grandma a big hug. It took Lily another couple of minutes to dole out the hugs, but she is now snuggling right up.
Here's the stillest I've ever seen Jason.. this wasn't even anywhere near nap time.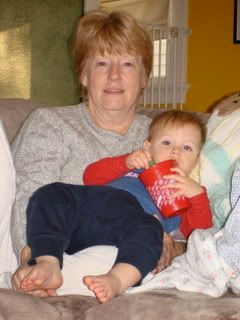 Kids must just have sense about things. Maybe it was because Lynda was here when they woke up and in her jammies so they knew she must be okay. :)
Here's Lily trying on Lydna's shoes and walking around the room. She was so proud of herself.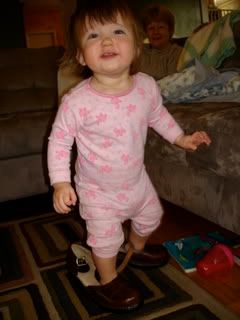 This morning we just hung around the house and got reacquainted with Grandma, then when they took a nap I got to take a few hours to go grocery shopping and sit and read in a coffee shop - ALL BY MYSELF! :). This afternoon we took a short trip to the park.. uh, it's getting cold.
We are having fun and I'm excited to head out for a long overdue hair cut. Thanks Grandma Lynda!