Only two more days until my big ultrasound! Keep your fingers crossed that the babies cooperate this time! :) I haven't taken a belly shot in a while. I'll take one on Wednesday to post with the results of my ultrasound!
I took a trip down to see Julie, Todd and Cooper this past week. It was so nice to see them and to take a look around thier new home. Cooper has gotten so big and is looking like a little boy now! I can't believe he will be a year old next month! Where has the time gone? He's crawling like a mad man and walking with assistance from mom and dad or his new walking toy. He's babbling quite a bit and I'm sure his first words are coming soon! The poor little guy was sick when I first got there and the Sweet family has taken a beating in the health department since Cooper started day care! Ceanne (Grandma C) came over to the Sweet house and watched Cooper on Thursday to give him a break from day care and it seemed to work wonders. By the time I left on Sunday he was getting pretty cleared out and seemed in good spirits. Hopefully he can hold onto his health this week at day care. I took my camera, but didn't get any shots of the little guy... though you can check some out at www.sweetsinseattle.com
Right before I went down to visit Todd took Jack to the vet because of a major nose bleed and they discovered that he had a tumor in his nasal cavity that was pressing on his brain. Jack has been feeling anxious and disoriented since the move. The vet said that they could do 20 days of radiation then maybe have Jack around for another year. Of course there are no guarantees as to how quality Jack's life would have been. Todd and Julie made the difficult decision to put Jack out of his misery and send him to doggy heaven. He was put down on Friday 2/10/06. I'm thankful that I got to spend some time with him before he had to go. I took this photo of him (he's not so keen on having his picture taken) the day he went to the vet.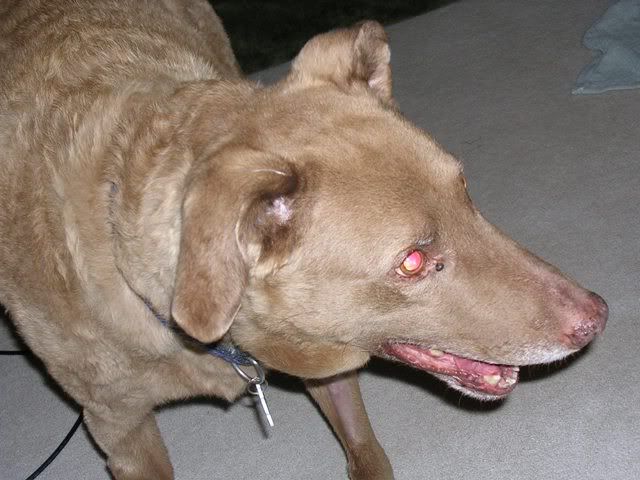 In loving memory of Jack.
I'm feeling good... tired, but good. I'm excited for my ultrasound and will post back on Wednesday with pictures and updates!