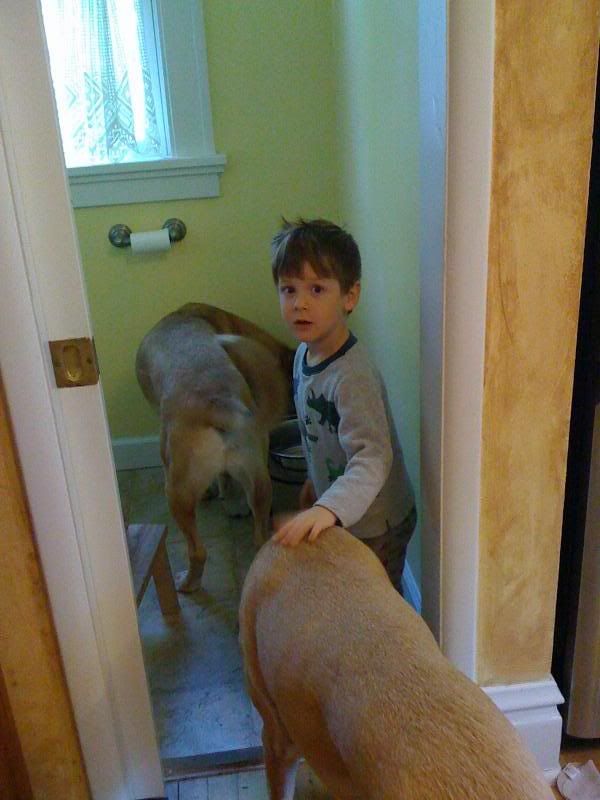 We are watching my friend's dogs for the weekend and the kids are loving it. Lily is upstairs reading bedtime stories to Bandit right now. (He's probably passed out cold from our run this evening) and Jason and Micah are passed out in his bed. It's so fun to watch the kids with the dogs. Particularly Jason. Lily likes the dogs and is interested, but she isn't as into it as Jason. Lily is always very excited to see dogs on the street, but her enthusiasm isn't the same when they are in our house. Jason wants to do everything with and for the dogs. He lets them out, he helps feed them and has already refilled their empty water bowl many times... all by himself w/o prompting. He always needs to know where they are and is learning to correct/direct them. Like when they jump on the couch he tells them to get off the couch. When Micah is getting a little too friendly at the dinner table he is the first to tell him to go to bed. It's really cute.
I'm loving having them here too. When I first walked in the door w/ these two good sized dogs it immediately made our house seem way smaller. :) These dogs are great and are the perfect dogs to watch. They are well behaved and great to walk with. It's been interesting being w/ them after being used to Phoebe. (RIP girl we miss you.) I took Bandit for a run tonight and he was great. Ran right by my side (he did try to sprint when we first took off, but responded when I told him that wasn't going to happen), didn't tug at the leash to go faster or to stop abruptly nearly ripping my arm out of it's socket and when we ran past other dogs he barely paid attention to them. The first time we were about to pass another dog I could feel myself starting to tense up and had to remind myself to relax... he was not Phoebe and there was a good chance he could care less about that dog. And he didn't do a thing. It was great! I can't wait to get a dog of our own. Jason and Lily keep saying they want Micah and Bandit to stay w/ us. When I told them that they had to go home to their family Lily said she wants to get a girl Micah when we move to CT. :D
We had a fantastic weekend. We had a nice easy day yesterday. I ran in the morning and came home w the dogs so the rest of the day was all about the kids playing w the dogs. Chuck it in the yard until Micah ate the ball, walking the dogs, feeding the dogs, petting the dogs, following the dogs around...
Today we decided to check out Madtown Twisters to use a gift certificate we've had laying around. I figured it would be better to have one on one parenting and Tom actually has some gymnastics coaching skills that I figured would come in handy when Jason wanted to play on the apparatus. We all had a blast. Lily was mostly into the trampoline, the blow up bouncy house and the foam pit. Jason checked it all out. It was fantastic. Here are some photos (all from the iPhone so I apologize for the quality).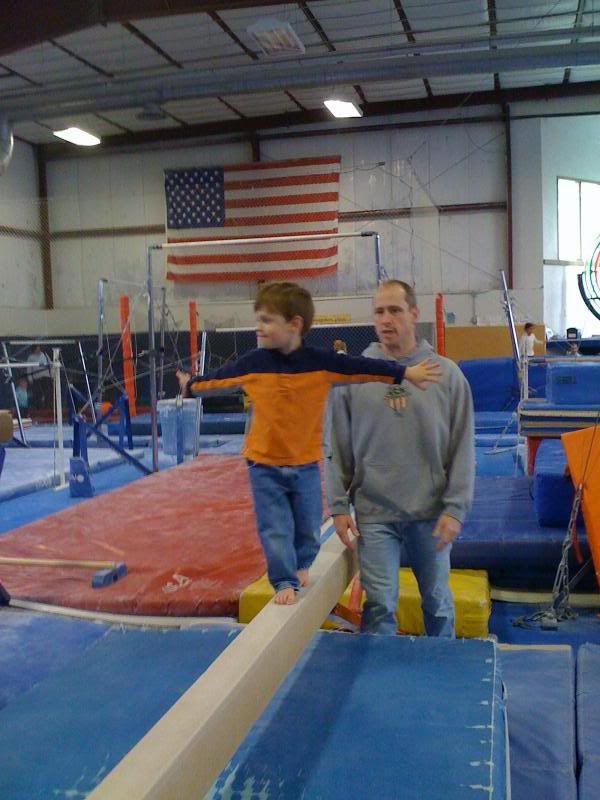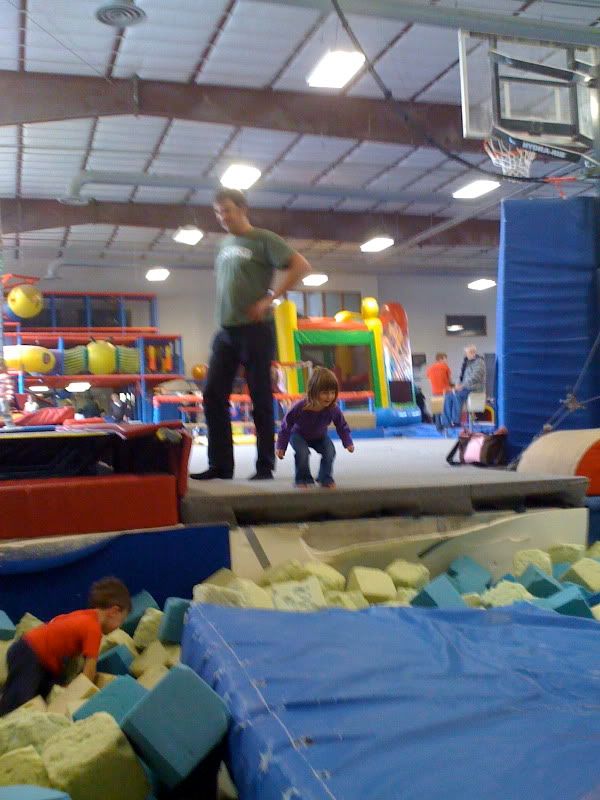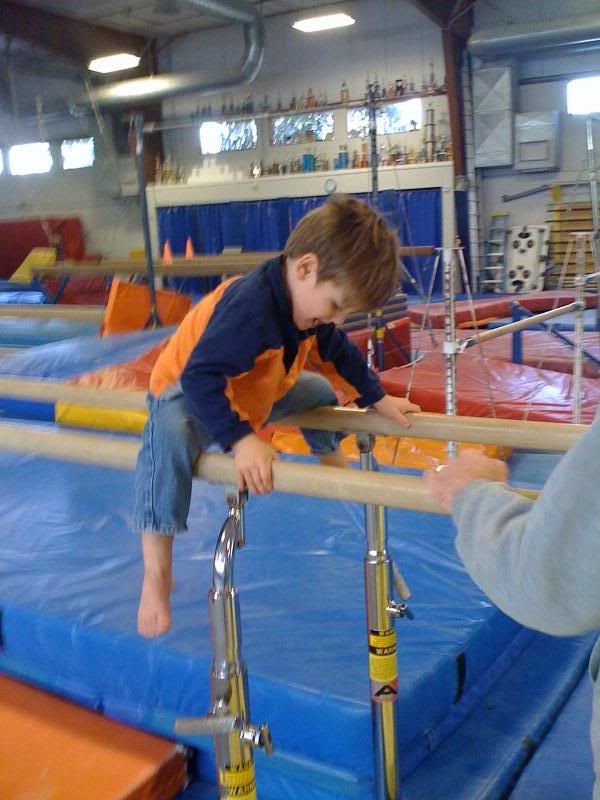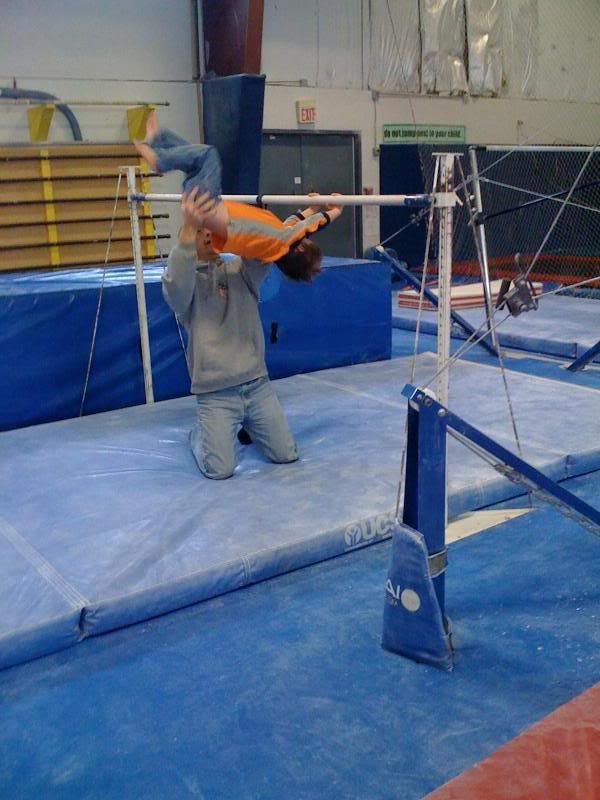 If we were staying here I would definitely enroll the kids in the 3 to 5 program. I think Jason shows a natural desire and skill. We'll find a place once we get settled in Connecticut and see if they are into it.
After gymnastics we were all starving so we tried to go to the kid's favorite - The Great Dane, but they serve a limited menu on Sunday so we decided to go across the street to Flat Top Grill. Did you know that kids under FOUR eat for free? How did I not know this? The kids really enjoyed it too ... even though they don't have mac and cheese. :D
Jason used chop sticks for part of the meal and actually did a pretty good job.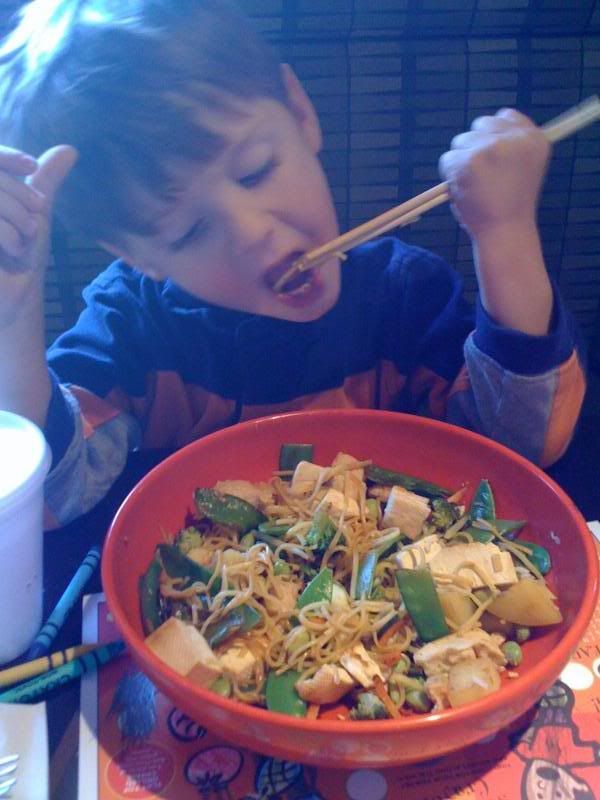 Lily practiced twirling her pasta and also did well.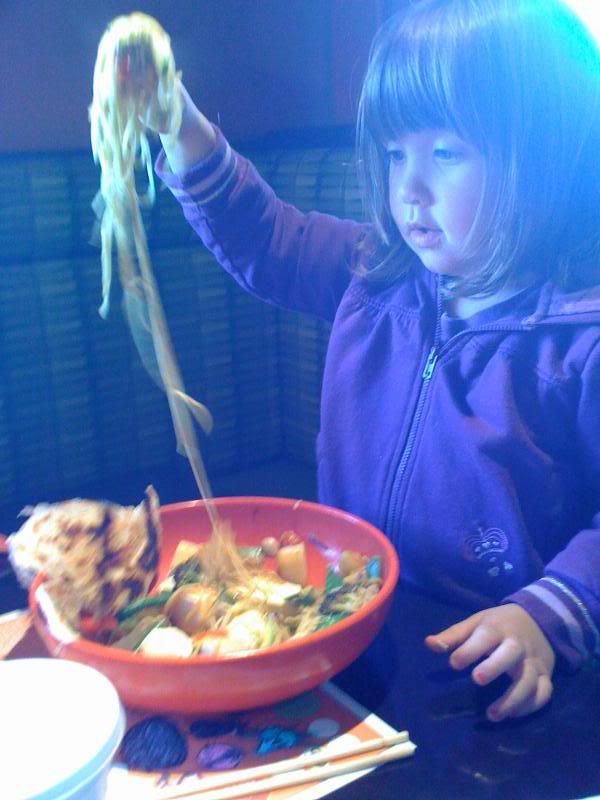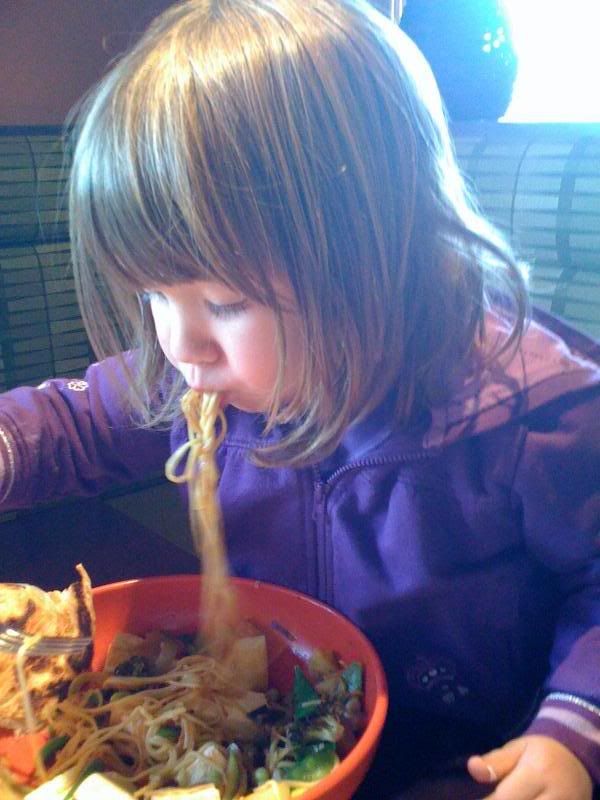 My long run yesterday was tough... as was my last outdoor a.m. run. I think it's the morning thing really. We were scheduled to run 13 and ended up just under 12. I just wasn't feeling it and knew that 12 would be plenty. My legs felt heavy and I felt tired. We still ran about a 9:20 pace the entire way (which is a little fast than we needed to run), but it felt slow and I was kind of bored... not w/ the company just w/ the running. I skipped my Friday run b/c I didn't want to over burden my legs for the long weekend run ... my sched has me running long on Sundays, but we had to do it on Saturday this weekend... so I went for my Friday run this evening. I didn't think it would go so well because I ran long yesterday, but it was great. Nice and easy the way I like it. I was supposed to go nice and easy, but I felt great so I just ran and ended up averaging 8:30s... I figured I felt good so I was just going to go w/ it. We'll see how the next three runs go this week... including my tempo run on Tuesday.
With every run outdoors I feel like I am in my long farewell to Madison. I'm flooded with memories of all the runs and rides I have done here through all the seasons and all of the people I have run and ridden with. We've gone through so much in this town in the last four years.