So there is this crazy grocery store here called
Stew Leonards
it's like an amusement park slash grocery store... it's always crowded and it's great for kids - IF you can stand the crowd. Anyway... dad and I stopped there on our way home the other night and noticed that they had a santa. Now the crowds at Stew Leonards are NOTHING compared to the ones at the mall so we decided to do some shopping w/ the kids and let them talk to Santa while we were there. FIFTEEN minutes and DONE! Perfect. I got to snap a picture myself and didn't get hassled to spend ridiculous amounts of money on a photo....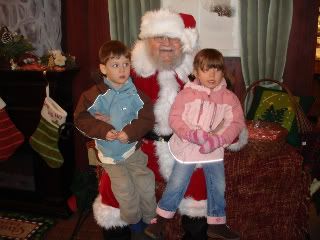 Not too bad for 15 minutes and no charge. I am a HAPPY HOLIDAY CAMPER!
PS Lily wore piggies b/c she said Santa would like it.