First I wanted to post some cute pictures of my day care! ha I watched Marie's girls Kate and Coco while she went to a dental appointment and it happened to be around lunch time so I had to feed all four kids (Kate and Coco are 3.5 months younger than Jason and Lily) with only two high chairs. Lily and Kate ended up in the high chairs while Jason and Coco sat (mostly) at the little table. Jason did a great job of "helping" me keep Coco in her seat by following her and saying, "Sit down, Coco" when she got up. They did a great job ... they must have been hungry. Jason and Coco did get cut off earlier than they probably would have had they been in high chairs b/c they started making a HUGE mess. Jason did eat a lot that evening and Marie reported that Coco was pretty hungry too!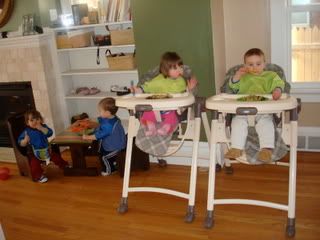 The kids are getting so much bigger now. They want to drink their 'green' smoothies on their own now. This one has kale and spinach in it.. though you would never know b/c of the blueberries, raspberries and vitamin D drops. (Yes mom, finally we are ALL taking our Vit D!) Jason figured out that you don't tip the cup up when using the straw by dumping a good deal of smoothie on his face and up his nose. I wasn't able to get a picture right after he did it - too busy laughing - but here's some aftermath.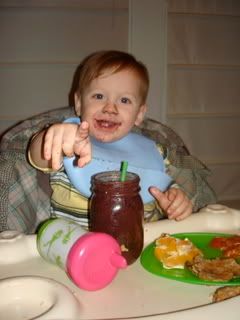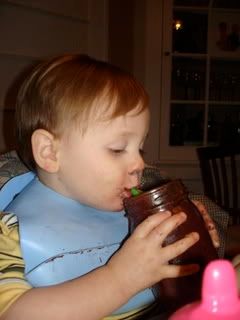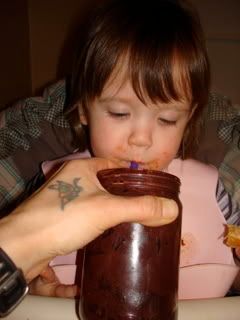 And in response to
Karen's post
about joining me in a mostly vegan raw diet here is a photo of a pretty standard dinner for me. This HUGE salad is in a medium/large mixing bowl, and for those that may be worried that I'm not getting enough fat, protein and calories this salad has one whole avocado in it and A TON of greens (high in protien)... so worry not I am well fueled. Got me through an ass kicking 1.5 hours on the spin bike this a.m. after an afternoon 6 mile run yesterday. Feeling great and lovin' life! Bring on the big salad!