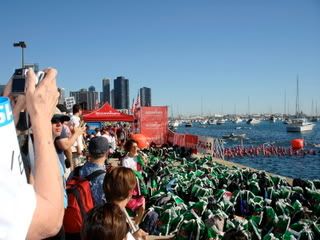 (my wave start)
..tired.. no time to post. Suffice it to say that DAMN THAT WAS HARD! I would compare the 10k to the final 6 miles of the marathon! I finished within my goal range w/ a time of 2:56:20. You can check out my complete stats
HERE
. My swim was slow - REAL slow - as I expected, the bike was within my goal and though the run kicked my ass it was a decent split too.. under 1 hour. :) My transition times were despicable, but not SO bad for my 2nd ever race and the WORLD's LARGEST tri - and therefore transition area. I was prepared for the run to be hard, but - for some reason - I wasn't prepared for it to be marathon hard.
My sweet ride care of Tom: The Schwinn Prologue. Their
(Schwinn
's) first tri bike! :) I rode one of FOUR out right now. They will be out in 2008. (I was going to add a link to the Schwinn site, but this bike is so new that it's not on the site yet!)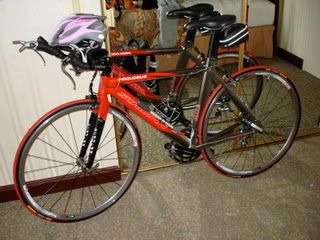 Marked and ready to go: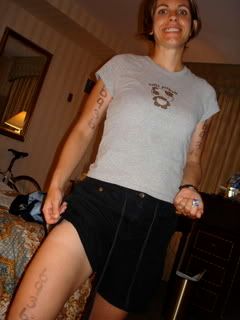 Wetsuit, check. Ready to go get in line.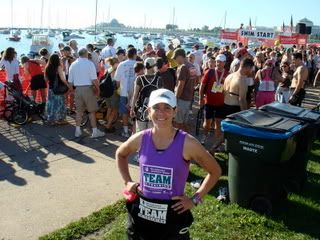 Game face... Let's DO THIS!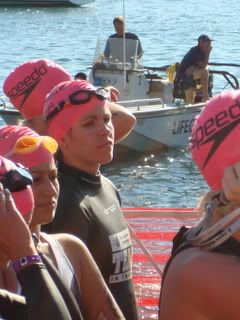 Race finish (the time shown started at 6am when the first wave started... my wave started at 9:05am.)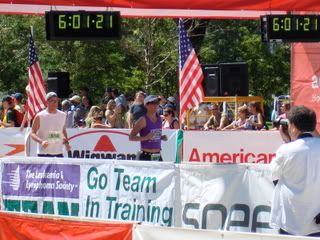 A picture speaks a thousand words!!!! That was HARD!!!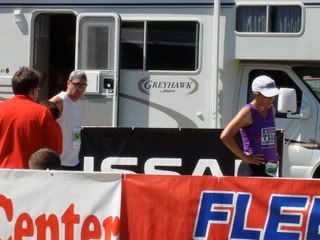 My 'pit crew'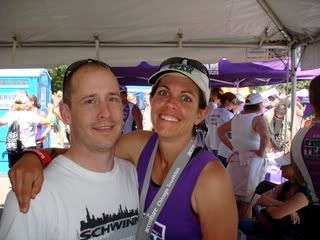 Post race with my coach Chris and fellow MadCity TNTr Joe.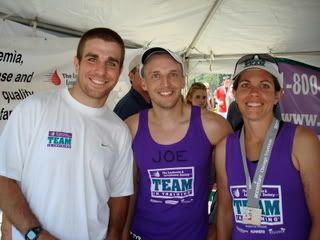 I'll post a longer more interesting description of the race for those that are interested. :) ha ha For now enjoy the photos.