I ordered some new kicks for Jason and Lily from
Preschoolians
. I was waiting until they were both spending a lot of time outside walking. I couldn't be happier. They fit great and they are SO DAMN CUTE I can hardly stand it!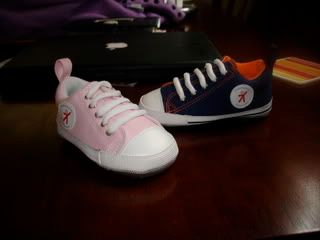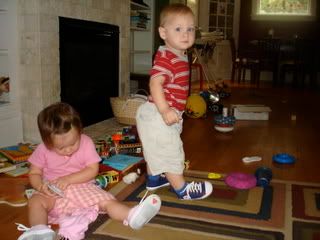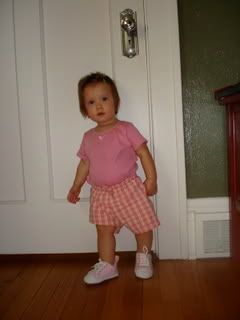 Mom and dad are leaving on September 2nd and winter is not too far away. The tri is going to be over, the babies are nursing less and winter is coming... could equal one out of shape unhappy mommy so I am on a quest for a new gym.. ANYWAY. Yesterday mom and I went by a huge metropolis of a gym called the
Princeton Club
to check it out. We rolled in w/ the kids in two umbrella strollers so the lady took us to the kids area first and said we could leave them there during the tour if we wanted to. I said, "Well, okay we can TRY!" Thinking there would be a lot of screaming and crying. WRONG! I opened the gate to that place and they took off (in separate directions) and didn't even look back. Mom?? Mom who? I so don't need my mommy anymore.. I'm going to go check this place out. We even stood there and watched them play (separately) for a while before we went in to get them. There were more tears over leaving than there were for being left... It was bitter sweet. It's good to know they are capable of that, but a bit sad for me that they don't "NEED" mommy anymore.
This morning got off to a bad bad start. I have been making my own bread.. which is great.. we were at the end of the loaf this a.m. and I was cutting the butt of the loaf off to squeeze another slice out of it. Well, after $30, 1.5 hours at urgent care and 5 stitches I'm thinking I should have just eaten the crust. I cut my finger pretty bad. Spent some time on the kitchen floor (b/c I felt like I was going to barf and was having cold sweats) while Jason and Lily screamed at the gate and Tom doctored my finger. Mom and dad came over and mom watch the kids while Tom went to work and dad took me to urgent care. Good times. The verdict is that my finger hurts like shit.. at least where it's not numb. Oh, and it's my index finger on my left hand so typing this is taking me a while. :) I go back in 5 to 7 days to have my stitches out. I can't swim until they are out - for risk of infection. I'm not willing to risk it by swimming in the sketchy lake I swim in. So hopefully I'll get at least one swim in before the race. I'm running a 10k tomorrow and I suspect that when my heart really starts pumping this thing is going to throb... and it probably won't feel great shifting on my 2.5 hour ride on Sunday. At least it's on the left and I don't shift as much on that side. :)
And on a side note. I have to share my new favorite dessert... Coconut Sorbet. I've found some ice cream maker recipes online, but have yet to try them. Right now I am enjoying the Coconut Sorbet from... yes you guessed it... Trader Joe's! If you ahe a Trader Joe's close by Go NOW and get some. It's SO good! and vegan! yea!