Oh my goodness watching two babies is all consuming! On Tuesday I was dressed and ready when Tom got home. I said, "the babies have been fed and changed. I'm going to Borders for a quiet cup of coffee." and off I went! I just needed some quiet time where no one needed me, I didn't have to hold a baby and no one was barfing on me. I hadn't yet showered in two days and looked HORRIBLE.... HORRIBLE!!! It was GREAT to get out and have a nice slow quiet cup of coffee.. even if it was from Seattle's Best. And it wasn't that hard to get out of the house!
I'm going to start going for a run when Tom gets home three days a week. I need some way to blow off steam! Phoebe and I went last night.. it was fantastic. I felt like there is some bit of my former self still in there. I'm suffering from motherhood's "loss of identity". I'm hoping to run the Jingle Bell run here on Dec. 9th... hopefully it's as family friendly here as it is in Seattle.
I'm also going to get my annual haircut tomorrow. I measured it and I have enough to donate to Locks of Love - figure I should do it now before the post-partum hair loss takes it all!! No more cousin it for me... Yeah!
The babies craning their necks to watch TV... oops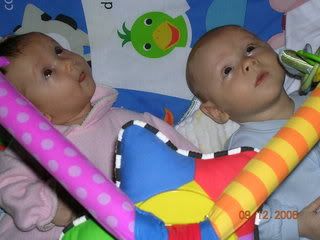 and to cute to not share. We were going to go for a`walk, but they blew up on me right after this photo.