okay.. I just registered for my FIRST triathlon.. gotta get a shorter practice run in before the big event. I'll be doing the
Spirit of Racine Sprint
distance triathlon on July 21st. This will be .25 miles swim, 20 km bike and 5k run. I'm nervous and excited. My swimming definitely isn't at the level I would like it to be, but it is much better so I'm hopeful that I can struggle through the 750 meters and not be dead last... or have to be pulled into a boat b/c I'm drowning. HA!
I will be heading over to Racine on Friday night by myself (well w/ a friend and I'll be staying at my dad's place)... w/o Tom and kids. This will be Tom's first solo overnight and morning. I'll plan on nursing them before I leave in the PM.. unfortunately I won't be able to hang around to put them to bed b/c I have to hit the pavement by 5:30pm to get there in time to pick up my packet. This won't be J/Ls first solo overnight... we are switching houses w/ mom and dad tomorrow night. They are going to come over Sat night and we are going to put Jason and Lily to bed then go out for dinner and a movie then go stay over at mom and dad's condo... for a moment I thought - "well this is dumb, they are sleeping through the night now so what's the big whoop?" then it occurred to me.... we can SLEEP IN!!! Watch ... I'll still wake up at 6am anyway.. Hopefully this will go well or I'll be worried about it for the tri. :)
Tomorrow Tom and Tom (grandpa) are watching the kiddos while mom and I do some landscape planning and research. We are going to do some work on the front yard one of these days. We have a guy coming over on Monday the 9th to talk to us about our bathroom and our front porch.. the last two NEED to be done items in the house. The front porch looks like some guy threw it together in a weekend and the paint is peeling really badly.. and that bathroom EEK! It's BAD! Small and bad. Hopefully we'll be able to get both done in our budget! :)
Jason and Lily are continuing to amaze me daily. Jason now knows where his ears are and Lily points to her nose and her belly button. Yesterday we were looking at a book and Jason pointed at peas than at his mouth and Lily immediately started signing to eat. They are little people. :)
I need to upload some photos to our album, but I will leave you w/ these gems from our naked (okay NOT our, THEIR) frolic in the front yard... I assure you mom and I were appropriately clothed.
Look at that belly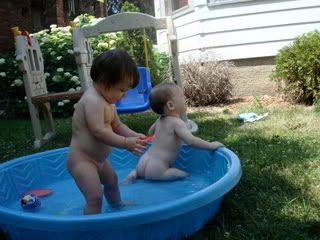 Why won't the water come out!?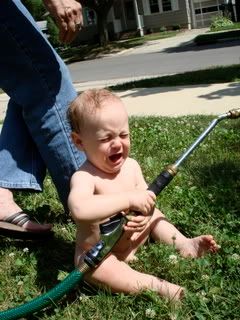 All wet