so that half marathon might have to go on the back burner!!! I'm just ZAPPED!! I'm not sure if I'm fighting a cold or what, but I'm am just getting the crap kicked out of me by these babies. I've run once since I've been here and I've been walking the dog every day.... surely walking the dog about 2 miles a day isn't taking it all out of me. the babies are all over the place and we are chasing babies like crazy so I'm not sure if that's part of it.
And as you mom's know.. I NEED my energy to parent (read: COPE) babies.
All-in-all things are going well. The babies are eating like gang busters.. I can't believe how much these kids can pile in.... I've read that they have the natural mechanism that tells them to stop when they are no longer hungry.... is this true or do they just enjoy the novelty of self - feeding??
They've been napping and sleeping fairly well.. though Jason wouldn't give it up until around 10pm last night.... not sure what that was all about. He would just scream!!!! And when I got him he was fine and wouldn't fall asleep on me... a new trick he learned... here he is at Aunt Cheryl's crashed out on me... I was ASTONISHED the he fell asleep.. no fussing.. and in a new place w/ new people. Poor buddy must have been tired!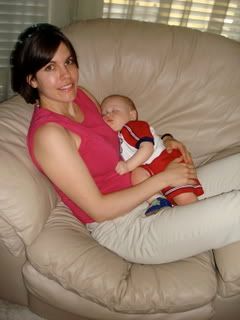 And here is Lily doing a new trick.... she only does this when supervised.. hasn't tried it while cruising past anyway. She was only interested this time b/c she just saw me come down the stairs... and I had to put a toy on the step to entice her. (why am I encouraging this behavior?)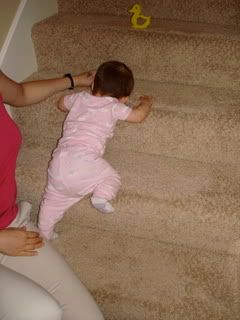 Okay.. must run back to the house to rescue grandma!